!— Global site tag (gtag.js) - Google Analytics —>
Manufacturing
Global Advanced Probiotics/
Whole Process Automation
Living
Bacteria
Experts
Our factory meets the strict GMP requirements and has developed an ideal culture condition for sensitive probiotics by unique technology. Our triple-layer and double check process keeps the quality of product from raw material to finished product.
Stress-free
Technology
During manufacturing, environment factors such as moisture, air and heat can affect the product quality. Probiotics, especially Bifidobacterium, can suffer stress from the environment. Through stress-free technology, we protect strains from stress caused by coating or production processes and produce probiotic strains with higher efficiency, activity and stability.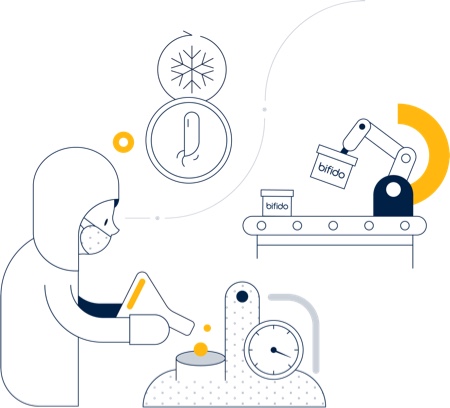 1 Strain isolation & Verification
· Screening human origin strains
· Healthy breast-feeding baby's feces
2 Inoculation & Mass culture
· Patented cultivation method
· High concentration mass culture
3 Separation
· Separated the medium substance
· Allergen Free
4 Freeze drying
· Extreme low temperature condition drying
· Keeps stability and activity of strains
5 Milling & QC Test
· Strict ingredient and pre-mix ingredient management
· Double check quality control
6 Packaging & QC Test
· Cooling packing
· Packing to maximize stability
Core Production
Technology
Anaerobic Cultivation
Technology
We have developed an optimal anaerobic process for each probiotic strain to maximize productivity and stability.
High concentration
culture technology
Through more than 30 years of research, we have accumulated know-how regarding the high cell density cultivation of strict anaerobic bacteria.
Cooling Package System
Our unique cooling packaging system protects sensitive strains from heat during the production process.
Weight Measuring System
By checking the weight from the smallest packaging unit to the carton box, we ensure uniformity of the products.